Hearing Aid Brands We Offer
In Meridian and Caldwell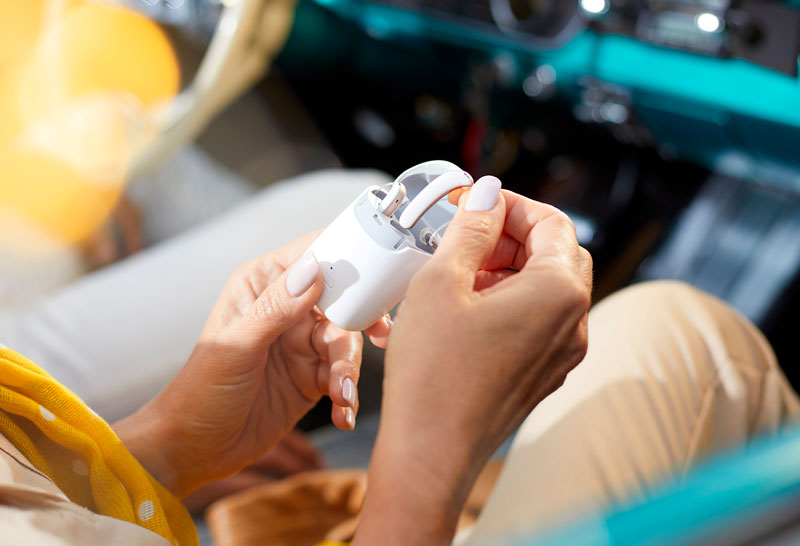 When it Comes to Hearing Aid Brands, We Offer the Latest Choices
Hearing aid brands are everywhere, and with them comes the broader availability of so many different sizes, shapes, and styles to fit your personal needs! Thanks to advancements in digital technology and miniaturization of the internal components, many of today's hearing aids are considered sleek, compact, stylish, and innovative – offering comfortable solutions to a wide range of hearing aid wearers!
What Hearing Aid Brands Should I Consider?
At Everything Hearing, we work with nearly every major brand in the hearing aid business. Every brand of hearing aids has their own specialties, uniqueness, and individual technology built into their hearing aids. Because of this, each brand also comes with its own pro-con list!
Rather than trying to push one brand over the other onto our customers, we focus on you: our patient. Our highly trained and knowledgeable staff of audiologists and hearing aid specialists have over 30 years of experience fitting our patients for hearing aids based on their specific hearing needs, their preference of hearing aid location (inside or outside the ear), their personal budget, and their hearing aid comfort level.
We believe these patient factors are more important than trying to steer a patient towards a particular hearing aid brand because of financial gain. Our goal is to educate our patients on their hearing condition, their hearing needs, and the hearing aids that best meet those requirements to be the most beneficial in their lives.
Learn about all of the hearing aid brands we offer with a message from our providers below.

Widex Hearing Aids
Widex understands people with hearing loss are exposed to a wide range of different sounds and at different levels. This is why it's important to have a hearing aid that helps you hear soft sounds while making sure that loud sounds are still at a comfortable level. The Widex Sound means that you can hear a full spectrum of sounds: from background noise to whispers, to voices in a crowd.
But it goes beyond that. We make sure that all of our hearing aids can be fit so that they suit your exact hearing loss and the way you listen. And we also ensure that they are designed to be comfortable to wear. With Widex, you can hear the most natural sound possible; whoever you are and wherever you are.

Starkey Hearing Aids
Starkey Hearing Aids aim to help make sound fuel, invigorate, and undeniably make life's moments more memorable and more enjoyable. More than anything else, hearing plays a major role in our quality of life, from our emotional well-being and physical health to our careers, leisure activities, and overall connection to the world around us.
Whether it's communicating with friends and family, interacting with colleagues, enjoying a recital, movie, or TV show, or waking up to birds singing outside your window, when you hear better, you live better. Every day you put off hearing your best is a day you put off living your best. We make it easy to hear better!

Phonak Hearing Aids
The goal of Phonak hearing aids is to improve the quality of life for people who suffer from or struggle with hearing loss. Phonak is the innovative force in hearing acoustics. With our creative solutions, we strive to overcome technological limitations – so that all people are able to hear, understand and fully enjoy life's rich landscapes of sound.
Oticon Hearing Aids
Oticon has expanded our portfolio of life-changing hearing solutions. Building upon our BrainHearing™ philosophy, all of our solutions are designed to provide access to the full sound scene which allows the brain to work in a more natural way. We offer a complete range of products to support a variety of hearing needs.
Oticon solutions provide different levels of support to meet the needs of a broad range of people with mild-to-profound hearing loss, including those with single-sided deafness.

Signia & Siemens Hearing Aids
Signia & Siemens Hearing Aids believe hearing aids should deliver sound as natural and free-flowing as nature intended. When you begin losing your hearing, it slowly restricts your experience. We use state-of-the-art technology to replicate the natural experience of hearing everything in harmony.
Whether you're in a meeting, taking an important business call, preparing a presentation, or meeting colleagues for lunch, with these hearing aids you can enjoy the most natural sound experience. We enable you to fully enjoy all of life's wonderful moments.
For the first time in your life, you can enjoy the most natural hearing experience and highest hearing performance to perceive your own voice in perfect balance with your surrounding environment.
ReSound Hearing Aids
ReSound Hearing Aids provides excellent sound by offering innovative and cutting edge hearing solutions that combine original thinking, design, and practicality with sound technology – all based on deep audiological insights and understanding of hearing aid users.
Your hearing experience should address your unique needs. Our system of hearing aids, wireless accessories, and apps help you to hear and adapt to different environments and situations with the best sound quality. With our portfolio of hearing aids, we have a solution for everyone.
Don't let their small size fool you – these hearing aids offer superior sound quality and breakthrough technology in a discreet package. Chat with your friends in a cozy café. Play with your grandchildren in the park. This product will be there with you, helping you hear more, do more, and be more than you ever thought possible.

Rexton Hearing Aids
Rexton Hearing Aids was built on the foundation that exceptional hearing technology should be accessible to all. Our products offer superior speech understanding, durability, and personalization to deliver unprecedented wearing comfort. Rexton's tenured, passionate people are empowered to provide solution-driven service to meet each individual's needs. That is why Rexton is the smart choice.

CaptionCall Phones
Clients with hearing loss may be eligible for a free amplified, captioned telephone to help you communicate with others easily and effortlessly. The CaptionCall phone features a transcript of each conversation and an amplified handset that provides loud, clear sound. To qualify for a phone, call us and schedule an appointment for a hearing evaluation and we will verify your hearing loss. During your hearing consultation, we will be happy to discuss additional options for improving your communication abilities and reconnecting with friends and loved ones.

Bluetooth Hearing Aids
Bluetooth technology and Smart Solutions is revolutionizing the world of hearing technology! Bluetooth is now used to make it more user-friendly and easier than ever to give users a better overall experience to connect their hearing aids to various devices for improved sound quality directly from the source!
Bluetooth-enabled hearing aids are not just a game-changer in the audiological field, but also a means for users to take back their lives by controlling the way in which they can choose to experience the world around them!

Need a Hearing Test? Make an Appointment Today!